Hi!
Yes we've been a little quiet recently, but have actually been busy little
iSnack 2.0
Vegemites ;o) ...
Recording Tracks
and Free Song Giveaways
Apart from the odd acoustic gig at The Publican Cafe, we've been
recording new demo tracks
in my living room with a very cool sound engineer,
Peter Gigengack
! If you want to check out a very shaky
video
(a la 'Blair Witch Project' style)... was limited by space so I couldn't get the whole band and Renee was behind a wall... sorry! But it''ll give you a feel for what happened anyway. Go to
https://www.youtube.com/watch?v=BTEez8wXZpE
to see the video.
To thank you for your fantastic support of us and incredible patience, we are going to be
giving away FREE SONGS
to you in the future. The first
FREE SONG (brand new track)
is in post-production at the moment and will soon be able for your downloading pleasure!
If you have
friends
who may be interested in our music, perhaps you can forward this email to them and they are more than welcome to
subscribe to the mailing list at
www.jadediary.com
to get their hands on some FREE DOWNLOADS in the near future.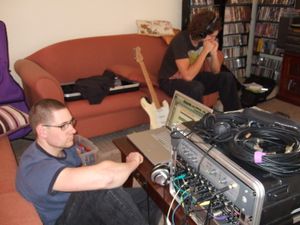 Sellaband
For a few months we were very quiet on Sellaband:
http://www.sellaband.com/jadediary.
But things are different now. For those who are unfamiliar with Sellaband, it's a website where artists can get direct funding for their albums/projects by 'believers', i.e. fans who want to support an artist financially. They can purchase a 'part' in an artist for $10. Once the artist meets the target set (which can now be $50,000 or less), the artist gets a large proportion of the funding for their project (e.g. record an album, promote the band, photos etc.). Believers will also have a share of revenue from sales of the album etc. You can find out more at www.sellaband.com.
As part of
'The Dream Team' (a group of Sellaband artists)
, we are currently being promoted on a
Syndicated Radio Segment
as '
Featured Artist
' of the day. It's wonderful exposure and a great way to be introduced to new fans.
Facebook


Our
facebook page
(
http://www.facebook.com/jadediary
) has been really busy with lots of traffic. We are celebrating the fact that we now have
over 100 fans
! Last count was 103... and growing! A fun little community is being formed there, so I'd encourage you to join us on
Facebook
too!
OK... stay tuned for
FREE SONG downloads
(brand new tracks) in the near future! But first,
you have to be a mailing list subscriber
!
Thanks again for your patience...
Love,
Cheryl