100% raised

We made it. At 3.44am 6 November 2010 (Western Australian time) we reached
100% on Sellaband
and raised 9600 Euros or about $13260 AUD for production of our new CD. And no, I did not celebrate with champagne sad to say... but with pineapple juice at 6.30am (yes I am boring that way :) It's been a crazy month!  I never expected this to happen so quickly. Well actually, if you consider the fact that we started fundraising on Sellaband in January 2008, it has taken close to 3 years in total.  In spite of that, the things that have happened in the last month have caused me to be a stunned mullet ...
Urban Dictionary definition: a. in complete bewilderment or astonishment b. in a state of inertia very common in Australia. "Like a stunned mullet" "He just stood there like a stunned mullet."
So thankful to all of you for helping me along the way - whether through encouragement or financial means.
Currently I am in the process of working on some new songs. Once I am confident that our songs are strong enough, we will be going into the recording studio. Should be fun!
Charity Rockfest 14 November
Join us for our last gig of the year at the Newport, Fremantle. We perform at 4.30pm sharp!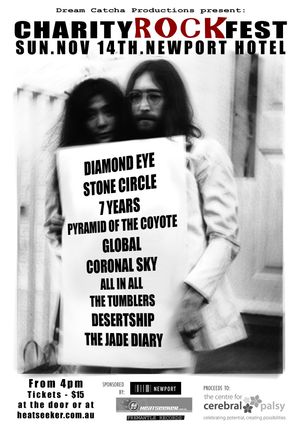 TAKE THE STAGE COMPETITION
I would really appreciate your help in voting for this:
We can win a chance to get treated like rock stars and perform in a concert in Melbourne/Sydney - in front of A&R people and win a Casio keyboard! Yes this is a different competition :)
1. If you could kindly go to this page:
http://www.whotune.com/#page=home
2. Click on the GREEN 'REGISTER' button in the middle to register yourself as a fan or musician.
3. Once registered, click on the 6th box in the middle of the screen, on the 'flag' button. You will get a drop-down menu and you just need to click on the 'Take the Stage' option. Once you have done that, you will come to the competition screen.
4. Then you can vote for us by pressing the 'vote' button next to our song entry, 'Closer'. I found that you can vote more than once if you want to. You just need to refresh the screen by clicking on 'Competitions' then 'Take the Stage' again. So feel free if you want to :) You can vote up to 10 times a day.
THANK YOU if you vote for us! Free songs coming your way if you let me know you have been voting. Just email me at
cheryl@jadediary.com
.

Girl With No Name Video
You can have a look at our new video of Girl With No Name. It features some photos of us performing around Perth and has lyrics! Go to
www.jadediary.com/media
to have a look!
Have a really great week!
Cheryl