Hi,
This is a pretty packed email to you because a lot of dramatic things have happened since my previous letter to you...
Wanderer
It's really exciting to unveil a new video that our fan, Laura, has made for our song, Wanderer. She's done a wonderful job and included Manga images in the video (I love Manga images). To have a look please go to:
https://www.youtube.com/watch?v=SS3PJszejkQ
I'm sure you'll agree she did a great job!
The rise and fall and rise again of ... Sellaband
Over the past weekend, Sellaband mysteriously had a 'server maintenance' problem and so the site was not accessible for a few days. We were puzzled as to why it took so long to fix their server. Then surprising news came out that Sellaband had in actual fact filed for bankruptcy.
Some believers and artists were in panic mode because this may have meant that the efforts artists had put into raising funds on Sellaband would be completely wasted (weeks, years of their lives gone to waste) ... although I know that the funds that were invested into artists were always safe in Escrow (managed by a third party and unable to be accessed by the management or artists until an artist reaches his/her targeted funding amount). If Sellaband had gone down, believers would probably have had their funds returned to them.
But thankfully we heard news that
Sellaband had actually been bought over by a German company who have a strong reputation in music marketing. The company and new CEO, Michael Bogatzki, aim to continue fostering the community of artists and believers that Sellaband had started.
Go to
www.sellaband.com/jadediary/
to read a letter from the ex and new CEOs of Sellaband.
This news brought much relief to artists and believers alike. We have spent countless hours of fundraising efforts on Sellaband. If Sellaband had not been bought over, this work would have been completely wasted. So this is fantastic news!
I want to encourage you to help us make our dream of recording our first album a reality. Musicians pour their hearts and souls into their music, tirelessly gigging, creating, giving away their music. This we do for love, but it would be nice to get a little bit of money for it once in a while :) 
If you have gained any enjoyment from our music, please help make our dreams a reality and purchase 1 or more parts at
www.sellaband.com/jadediary
If we do not raise the money we need for our next album, then it may probably never be heard ... and that would be a shame because we have a lot of great songs we want you guys to hear.

We are not rich. We are not supported by a major recording company. I wish we were. So this is what we have to do at the present time to help keep the music alive. So we really really need your help.
The Cottlesloe Hotel 5 March
Our next performance is at
The Cottlesloe Hotel, Friday 5 March. 8.00pm. We will be performing as an acoustic trio again. The plan was to perform as a 5 piece band, but Jarvis, our bass player has had difficulties attending rehearsals (his ankle was broken a couple of weeks back).
Heartbeat for Haiti 20 March gig
We are holding a fundraising band night at The Swan Lounge. Hope you can join us for that one. Door sales will go towards Haiti disaster relief. There will be some other cool bands playing with us that night so bring your friends along and support a great cause.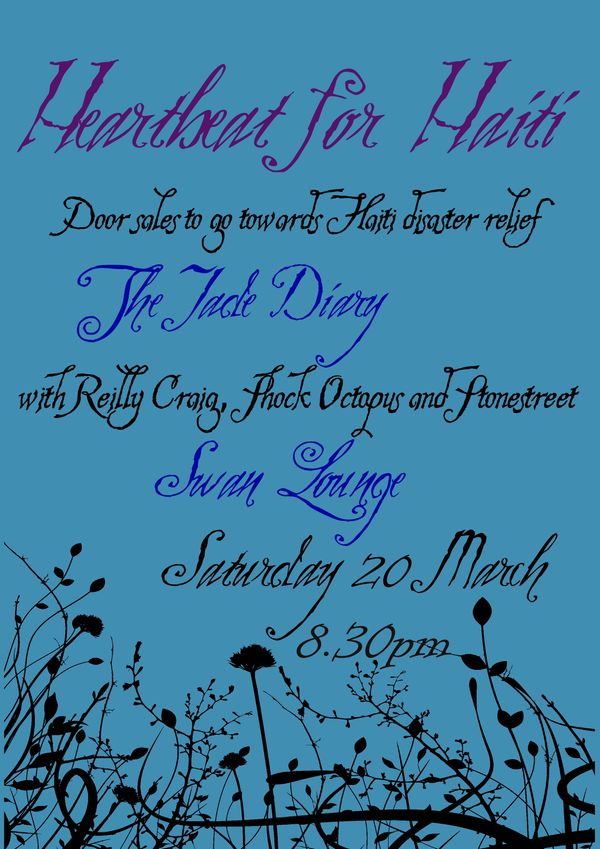 Soundcheck... 20 March voting madness!
On 20 March all of us will be voting like crazy for our songs on Soundcheck. For a week all artists who make it to the final round (it's highlly likely that we will be in the final round) will have their votes counted. The top voted artists will then be in the running to win some big money and get a chance to perform at the Showcase concert in front of music industry professionals.
We really really want to be at the Showcase concert!
So get ready and rally your friends, work mates, Facebook friends, together to vote for us starting 20 March!
www.soundcheck.com.au/showEntry.do
Whoa... that was a mouthful! Thanks for reading :)
Cheryl