Wow!
No. 6 on Soundcheck as I type
...
Pretty blown away by our
meteoric rise up the charts
on Thursday... when I started voting in the early morning we were about no. 18.
By around 11pm we climbed up to number 9
!
Thank you for your votes... they mean so much to us.
Please keep voting because there is still a significant gap between us and the number 5 spot
where we need to be to get into the Showcase concert and win any cash prizes.
We found it interesting when the top contestant Jordan Jansen (who has 14000 votes) came to our song entry and said:
"You should seriously be in the final 10, I'm sooo sure you'll be picked to be in the Live Final, you're Amazing!!"
Here is the link to vote again: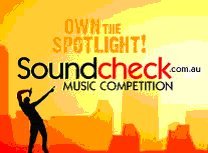 Have a wonderful weekend!
Cheryl