Well hello everyone ...
Soundcheck
Most of you probably already know WE ARE PACKING OUR BAGS FOR MELBOURNE AND FLYING TO COMPETE IN SOUNDCHECK IN JUNE!
We made it into the top 10
and so will be in the final showcase concert to compete for the grand prize of $50,000 and perform in front of industry professionals.
The date of the showcase concert is yet to be known but it will be in the first two weeks of June.
MASSIVE THANK YOU for your votes and support ... you really made a difference! We especially want to thank Gerry from the UK and his friends and family who faithfully kept us in the competition.
Many months ago, I had given up on Soundcheck. I had never won anything in my life and so assumed this would be another similar situation. As an independent musician, it's easy to give up and lose hope. And so that's what happened for me. Then last year I received a message from Gerry from the UK telling me how much he loved our music, which he had discovered on the Soundcheck website. He had read the competition instructions carefully and told me that if we get enough votes to stay in the top 10 of the Elimination chart, we would get into the winner's chart at the end and perhaps a spot in the final top 10. Gerry believed that we had a chance to make it, so he rallied support from his friends and family. And we also did the same. We made it into the winner's chart in a few months. Initially it looked like we were not going to do very well as we hovered at around no. 20 of the chart. However there was one day when we shot up to 12, then 10, then finally to no. 6. It was stunning to see ... a miracle in my eyes. We ended up at no. 7. Only the top 5 were automatically going through to the grand final showcase concert. So we had to sit and wait to see whether the judges would select us through into the grand final. Several weeks later, and just this past Thursday on the 29th of April, I was at work, when my mobile rang. I looked at the number and it had an '03' in front of it. I smiled to myself thinking... 'maybe it's Soundcheck' (because '03' means that the caller is in Melbourne). And true enough it was! The guy on the line said: "Are you Cheryl from The Jade Diary?". I said: "Yes". Then he asked: "What equipment will you need on the stage for the showcase?". We didn't even know we were in the final, and he was asking us what our tech specs were! So I asked at the end of the call: "So, does this mean we're definitely in the final?". He responded: "Yes, as far as I know, you are act no. 5 on the night".
So this is our story... full of drama, ups and downs, waiting, frustration and excitement! Life can really surprise you sometimes...
Girl With No Name
Have been really busy recording a
new version of Girl With No Name
as well. It was mixed by Eddie and his father,
Ken Ingwersen
. Ken is a well-known rock guitarist and producer in Norway. Check out his myspace:
http://www.myspace.com/keningwersen
The result is pretty impressive and we look forward to releasing it to you on
19 June
when we have our
Girl With No Name Single Launch
at the Civic Hotel (supporting acts: Sonja D'Anne & Toni Italiano, and ASTRO)!
New photos and website
redesign
We have had a recent glamourous photo shoot at His Majesty's Theatre and you will see more photos in the coming weeks as we re-design our website. The red room shot is one of my favourite shots from the shoot. The photos were taken by the very talented Heather Robbins of
Red Images
.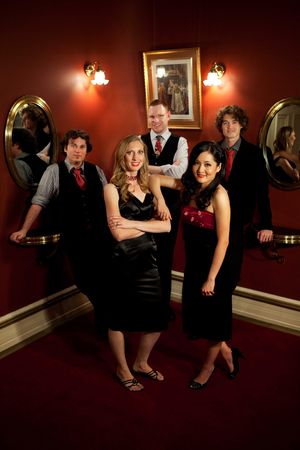 Cheryl and on behalf of Renee, John, Jarvis and Eddie