Hello,
How are you? I've been well but thinking about quite a few things these months since I last spoke to you. I want to let you know about a few major changes.
Fundraising Deadline
Sellaband recently introduced a new condition to all artists.
All artists who are currently fundraising on Sellaband must now raise their targeted amount by September 2011 otherwise, all the money raised so far will disappear and we will not receive any funding.
Sellaband have introduced this condition in order to separate the wheat from the chaff and get the desired outcomes quicker because they were finding that many artists have been inactive or taking a very long time to raise the targeted amount.
The implication…
While friends, family and believers have helped us raise 6107 Euros
(about $8516 USD or $8640 AUD) so far,
we still have a significant way to go
before reaching our target.
We must raise the entire 11,900 Euros by September 2011 otherwise all the money raised so far will disappear.
That would mean countless hours of fundraising down the gurgler… :(
---
By the way, we are the 11th artist on the Sellaband charts (meaning that out of the hundreds of bands on Sellaband, we come in 11th based upon how much money we have raised so far). Also, we are the #1 Australian artist on the whole of Sellaband!
---
What is Sellaband?
"Sella-what?" I hear you say… well go to:
https://www.sellaband.com/en/pages/how_it_works
Food for the Soul…
What I am asking all of you to consider is this:
Imagine you are a restauranteur and you put your heart and soul, time and money into making amazing culinary experiences that customers get nourished and delighted by.
Now I want you to imagine what would happen if the restauranteur offered this food to people but very few were willing to pay for the meals. The restauranteur has to meet overheads, staffing costs, let alone the cost of the raw materials. How is the owner going to survive, and continue making his 'works of art' that he delights to give to his customers?
This is what is happening to independent musicians such as me all around the world. We put our hearts, soul, sweat, time and money into making songs that people enjoy. It costs about $2000 AUD to record a song professionally in a studio. But
today people see music as a 'free' commodity. However, bills have to be paid. We love what we do, but we cannot continue to do what we love if the well runs dry.
I wish we could.
If you have gained any enjoyment from our songs, would you please consider helping us out at Sellaband to fund our next release?
If you have any questions about Sellaband, I will be glad to answer your questions.
Click here now
to buy 1 or more parts...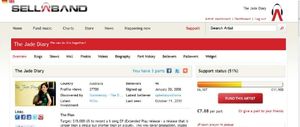 You need a credit card to make the purchase. Alternatively, if you don't like using your credit card to make purchases over the Internet, then email me and I will gladly make other arrangements with you.
Buying 1 part to pre-order our next CD:

If you buy more parts, you will also receive additional rewards.
Find out more about our incentives at
https://www.sellaband.com/en/projects/jadediary/incentives
.
Think of it as a way of
pre-ordering the CD
. And by doing so, you are keeping the music alive and helping an independent musician who really needs your help.
Making music is a wonderful privilege and joy for me, but like I said, I need to survive too. I cannot continue to make music if no one wants to pay for the music I make.
The Jade Diary is now a Solo Project
If you have been following our history, you will know that we have had many line-up changes.
After much thought, I have decided that
The Jade Diary will no longer be a traditional 'band'
in the U2 sense. It will now be a solo project. Meaning that
I will be the solo artist and I will have musicians collaborating and helping me along the way.
Some of these musicians will be familiar faces, others may not be. This is why the pictures of the 'band' on the
websites
have been replaced with pics of myself :)
Isn't the fact that U2 have remained in pretty much its original lineup for such a long time... a miracle in itself?
The Jade Diary will go on... just in a different form. I will be the face of The Jade Diary from now on!
My love to all of you and deepest thanks for your generous support and encouragement along the way... Thank you for being a part of my dream.
Landscape of Dreams video
I am working with a French musician,
Lyter
,
http://www.myspace.com/lyter911
, on a new video for Landscape of Dreams. This will involve filming us against a green screen! How Matrix-like is that?! No, I don't think I'll be decked out in black leather, wielding guns, dodging bullets and karate-chopping my way through the 'Landscape of Dreams' but it should be a lot of fun anyway! Ah, I think it would be dangerous if I had a million dollar budget for this! ;o)
Charity Rock Fest 14 November
14 November 2010, Sunday: 4.30pm
Charity Rockfest (to raise funds for The Centre for Cerebral Palsy). Newport Hotel. Playing acoustically. Tickets for $15 will go to The Centre for Cerebral Palsy. Please come and support a great cause and have a great time listening to fantastic bands!
Email me
now if you want tickets …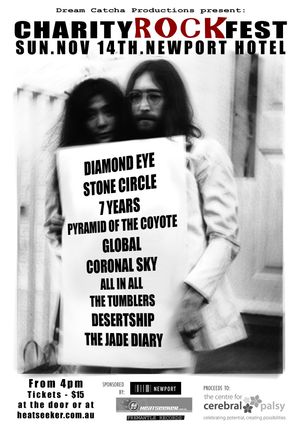 New Website Look, Pictures, Reviews
Go to
www.jadediary.com
to have a look at new pictures and reviews!
Love,
Cheryl