Hello!
Hope you are having a great start to Christmas... only a few sleeps away! I'll be having a hot Christmas here in Perth... traditionally it gets up to 40 degrees Celsius... still dreaming of a white Christmas!
Since I hit 100% on Sellaband, it's been a bit crazy. Working on songs, demos, organising recording... busy!
All along, I have wanted to record a full-length album, however because of the uncertainty surrounding finding the funding on Sellaband for a full-length album (it would have taken much longer to reach my goal and there was a deadline), I had to settle on raising money for half an album (about 5 songs). Therefore I am now seeking an additional amount of money to record a full-length album.
Please go to
http://www.indiegogo.com/jadediary
or click on the image below to find out how I am going to record a full album and how you can pre-order it!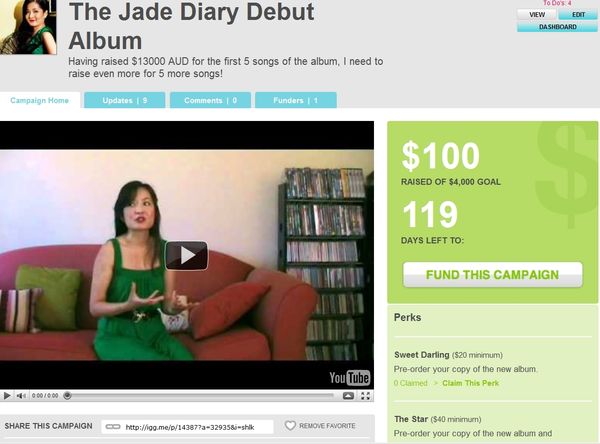 You can go ahead and
share my indiegogo link with your friends through facebook, myspace, email, twitter
!
And by the way, why does youtube always have to pick the most awkward looking image to freeze on?! Looks like a fishy face :-o
Anyway, it's all pretty full on and exciting... looking forward to 2011 and I hope you are too!
Merry Christmas to you and yours!
Cheryl