Cupcake anyone?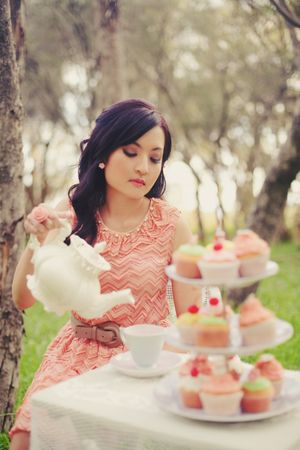 Welcome to my never-ending tea party...
This is a photo from a recent photoshoot and you can see more of the
'tea party' shots
if you go to
http://www.jadediary.com/photos
. My sis-in-law, Annie, made those tasty cupcakes by the way... thanks Annie! Remember to invite me 'round to the house for a few more for din-dins ok? ;)
The photo-taking spree has not ceased, because I am preparing for PHOTOSHOOT Part Deux this Saturday! This time it'll be a different theme and I'm not telling what it is ....sssh. I think I'm just trying to re-live sad, old un-realised childhood dreams of becoming a model and fashion stylist haha. You can ask my shrink!
Behind-the-Scenes: Recording 'Start Over Again'
I've put together a short video of my behind-the-scenes fun in Sydney this past April. It's a recording involving cello (I LOVE Cello) of one of the 12 songs, 'Start Over Again'. This one's a ballad. The album is very diverse though, and you'll find a song for almost every kind of mood you might think of... :)  Click on the link or image below to have a squiz...
Media
New Facebook Page
The more observant of you may notice that I have dropped 'The' from my name.... now JADE DIARY. Facebook (double grrrrrrrrrr) would not allow me to change my facebook fan page name to 'Jade Diary'. Therefore I have had to start a brand new Facebook Fan page:
listn.to/JadeDiarymusic
. I would mighty appreciate you having a look and 'LIKING' my new page! x
That's all for now my sweets!
Love,
Jade Diary