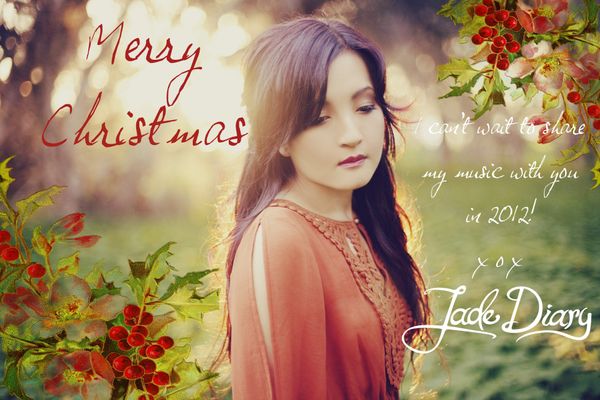 Little known facts about Mistletoe
(Thank you fount of all wisdom, the Internet)
Phoradendron, the scientific name for American mistletoe, means "thief of the tree" in Greek. Although not a true parasite in scientific terms, mistletoe comes close, sinking its roots into a host tree and leeching nutrients from the tree to supplement its own photosynthesis.
Hmmm... I think I've rambled on enough about mistletoe!
I hope that my email finds you happy and well, enjoying this celebration of the birth of a child who would grow to a King who would rule hearts, conquer evil and divide nations. Love him or hate him, Jesus is the reason for Christmas. What's all this Santa and mistletoe business! ;) x
The EP
My EP is coming along nicely and will serve as an hors d'oeuvre to my album which is the 'main course'.
David Skeet
, my producer, and I are working hard to make everything sound beautiful and speccy (Aussie slang for 'spectacular' ;) which is why it's taking some time. Good things come to those who wait, so thank you for waiting my lovelies! x
The EP release is scheduled for March 2012. The album will be released some time after the EP in 2012 ... Hurrah!
New Logo
The more observant of you will notice my new 'Jade Diary' logo. It took many back-and-forth emails and tweaks by talented Artist, Rebecca Morgan, and my very patient and lovely French Graphic Designer, Anne-Alexia Louarn (Alex for short ;) before we arrived at the final logo. Another Hurrah!
Music Video
My new music video shoot was a success and shot over two INSANE days with Giovanni C. Lorusso as Director and my lovely and talented 1st Assistant Director, Erin Kujda. It involved a crew of many extras, make up artists, smoke machines and hard-working crew. It was not without drama and incident (including difficulties with a smoke machine which was not churning out smoke in a consistent way). In spite of that, it was a fun shoot and we are really happy with the results. Giovanni is still cutting and prettying up the video while he is in Sardinia, so I am still eagerly awaiting the final video which will be released as the first single of my EP in March 2012.
I want to wish you and all of your family and friends a very happy and wonderful Christmas and New Year! Thank you for your ears, hearts and minds. I am deeply thankful for your friendship and support!
Love lots xox
Jade Diary