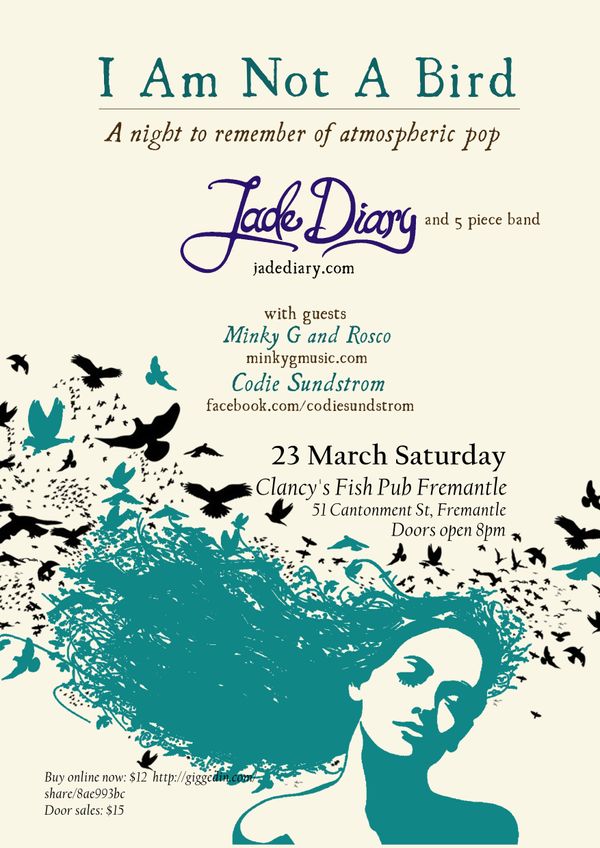 No, not really. In fact, I don't think I'm any kind of winged creature or close to being able to fly. Wish I could sometimes. Don't we all?
"I am not a bird" is the first lyric line in my song, 'Rivers' from my debut album, Mermaid, in case you were wondering why the 23 March event at Clancy's Fremantle is named in such a way. Would be great to see you there!

You can now buy tickets online for a discounted price here: 

http://www.giggedin.com/gigs/fremantle/2013/03/jade-diary-i-am-not-a-bird-8ae993bc



Only those who purchase their tickets online will be in a draw to win a Clancy's Food Voucher for the night! So what are you waiting for, get those friends buy those tickets:
http://www.giggedin.com/gigs/fremantle/2013/03/jade-diary-i-am-not-a-bird-8ae993bc
Beautiful Album Review on themusic.com.au
Recently had my album reviewed on themusic.com.au who are associated with Drum Media. Check it out:
http://themusic.com.au/reviews/album/2013/02/27/jade-diary-mermaid-renee-jones/
Lim matches her melodic tones and emotionally rich lyrics with some fantasy-inspired synth to produce a debut album with a dream-like quality that's second-to-none. Introducing us to her work, Lim pulls you in with opening track Mermaid, which, funnily enough, familiarises us with the idea of the mermaid's beauty, while simultaneously allowing us to explore every gorgeous facet of Lim's melodic and haunting vocals.
An album with more highs than lows, each track has a different selling point – whether it is the lyrics in Cold Hearted that Lim passionately sings, "Your scent it lingers and it steals away my sanity.../Blinded by beauty and seduced by my vanity", the perfect match of synth and percussion in A Thousand Days, or the soaring, lingering vocals in Lucid Dreams, each song wraps itself around your eardrums and tugs until it has engulfed your whole body.
The album is an exploration of various sincere, well-articulated emotions, without sounding whiny and repetitive. Like the swift, yet graceful movement of a mermaid, this album flows flawlessly through a saturated music scene, leaving you in bewilderment of what you have just experienced. It's hard to fault this album. Jade Diary's debut is something Perth, and Australia, should be proud of.
You can buy my album here by clicking at the image or at this link:
http://www.jadediary.com/store
iTunes: https://itunes.apple.com/au/album/mermaid/id562445691
New Dance Track: SILVER CLOUDS



I collaborated with UK dance music producer, Pentaprism, to co-write and sing for a song called Silver Clouds. In the first day of Pentaprism uploading the track to his Soundcloud profile, the song attracted more than 1600 listens! Have a listen here by clicking on the picture below and please share it with your friends on Facebook or anywhere else: 


https://soundcloud.com/numatik-lab/pentaprism-ft-jade-diary




EASTERFEST, Toowoomba Queensland!

I will be flying with my 5 piece band to Toowoomba, Queensland, to perform in Easterfest on 28 March 2013. Headlining this year are Audio Adrenaline, Relient K, James Morrison, Tigertown and many other artists. The Clancy's gig on 23 March is like a pre-celebratory event just before we fly off! If you will be at Easterfest from 28 March to 31 March, please come to some of my shows:
Acoustic Duo shows at Easterfest:
28 March Thurs 8pm - The Olive Branch
29 March Fri 3.20pm - Cafe Forte
30 March Sat 11am - GPO Cafe
FULL BAND (6 PIECE) show at Easterfest:
31 March Sun 11am - Big Top Tent
That's all for now! I look forward to meeting you in person on 23 March at Clancy's Fremantle (note it's NOT Clancy's Mt Pleasant!). 51 Cantonment Street, Fremantle.

Love,