Hellooooo!
If this is the first time you're reading my blog... WELCOME! I'm Cheryl from Jade Diary and I write bittersweet singer-songwriter pop with touches of folk thrown in, intermingled with soul-revealing lyrics. Some say my music sounds like Jewel, Sarah McLachlan, Dido, Taylor Swift or Andrea Corr... well truth is, I sound like myself. Go to
http://www.jadediary.com
and click on the music player at the bottom to have a listen. 
I'm co-writing some songs with David, my producer, for my upcoming debut album and coming up with some really irresistible tunes! Can't wait to present them to you but you'll need a wee bit of patience! :)
In the meantime I have a fun competition for you to participate in ... (drum roll please)
...



"Jaded and lovin' it!" Competition
Prizes:
-
All who enter
will be able to receive
2 FREE EPs to download
(7 songs in total).
- You also go into a draw to win an
$80 AMAZON Gift Card
(buy books, CDs, DVDs) or
$80 STOP STARING voucher
so you can look like a 40s movie star with their glamourous vintage fashion... where I got my
green dress
in the pics and where
Kim Kardashian
,
Paris Hilton
and
Rihanna
shop!
To
enter
all you have to do is:
1.
Subscribe
to my Jade Diary letters at
http://www.jadediary.com/freesongs
.

AND
2.
Share
this blog on your Facebook profile (just click SHARE below this blog)
OR
email at least 10 of your friends
encouraging them to read this blog. Please cc me at
cheryl@jadediary.com
if you are emailing your friends and include your friends' email addresses in the bcc section so you protect their privacy.
OK, time for me to get back to songwriting and for you to start emailing some friends/family members!
Closer Video
I created a video of 'Closer' from my Girl With No Name EP that you can watch right here: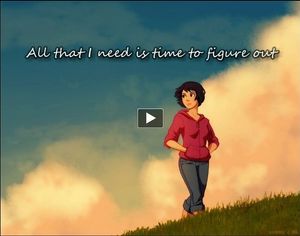 Twitter and Facebook wars
Facebook vs Twitter ... I used to dismiss Twitter as nothing but a vehicle for
John Mayer
to quip about his life and
Hugh Jackman
to get excited about the 'Sydney Opera Center' ;) but I recently realised that it's really not as bad as I once thought! I'm celebrating the fact that I now have over 100 people following me on Twitter! Woohoo...
http://www.twitter.com/jadediary
. If you are already on Twitter, show me some love!
My
Facebook page has had a recent makeover
.
If you have already 'liked' my FB page, then when you go to the page, you'll have to click on the 3rd tab which is 'BandPage' to see the changes.
But if you've never 'liked' it before, then you'll see it in its full glory immediately :)
Favourite ice cream flavour?
By the way, if you have any questions you'd like to ask me from my favourite ice cream flavour to what is the overall theme of the album, feel free to reply to this email and ask them... your questions and my answers will be featured in an upcoming email :) I always love hearing from you!
A Song about You
Ever wanted to have a song written about yourself, or a person you love?
Or have a burning topic that you want expressed in a song? Imagine how your girlfriend would feel if you had a song written especially for her and you asked for her hand in marriage in the song? Ever wanted to sing the song yourself?
Well, now you can :) I am offering to write a song of your choice about anything or anyone, as long as the topic is one that I am comfortable writing about. Example: if you wanted me to write you a song that Hitler was a wonderful person and everyone should become a Ku Klux Clan member, then I couldn't do it! But you get the picture :)
Just go to
http://www.indiegogo.com/jadediary
and contribute $1100 and I'd be most happy to write and record the song for you!
If you have a burning desire to perform on it or sing, then this could be arranged too! If you want more information about this, just email me back and I'll answer any of your questions.
All my best to you,
Cheryl