Hey everyone!
Village Kid EP LAUNCH@ The Paramount 28th July Wednesday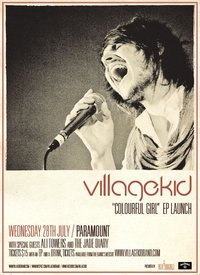 Really excited to be supporting:
VILLAGE KID
at THE PARAMOUNT, 163 James Street, Northbridge, this WEDNESDAY 28TH JULY...
Doors open 7.00pm
Featuring:
ALI TOWERS
THE JADE DIARY
(in acoustic mode) at 8.30pm
VILLAGE KID
(pop with soul and lots of groove)
We are selling tickets for $15 each: includes a PREMIUM DRINK + COLOURFUL GIRL EP BY VILLAGE KID.
If you'd like a ticket, please
email me right now
... otherwise I won't be able to mail it out to you in time for Wednesday! Please support indie musicians :)
Thirsty Merc!
For those of you not familiar with
THIRSTY MERC
, they are a fabulous well-known Australian band that has recently released an incredibly addictive and infectious song called
Mousetrap Heart
. Can't get the freakin' song out of my head!!!
Saw them last Thursday night, with
ALI TOWERS
and
VILLAGE KID
also supporting them at the Fly By Night Club. All the artists were fantastic, especially Thirsty Merc!
I got autographs from Thirsty Merc and cheeky me also passed them our Landscape of Dreams and Girl With No Name CDs! They were sweet and said they'd play them in the car... well let's hope they do :) Hope they like our music! Really nice guys :)
Closer
We just uploaded a brand new track called 'Closer' to our player...
check it out
!
Hope you have a great week and if you're in Perth, why don't you come down and head down to the Paramount this Wednesday!
Cheryl